Bound Away by CAKE
Book Details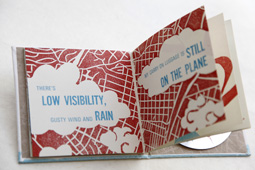 Bound Away is a song from CAKE's most recent album, Showroom of Compassion.The song tells the story of a traveling musician. Written by a band that has spent the better part of the past 20 years touring, it paints a realistic, often unglamorous picture of life on the road.
24 illustrated pages using linoleum blocks hand carved by the band and volunteers
Type is handset in Alternate Gothic No. 2 and Universe
Printing: two-color letterpress Vandercook proofing presses, by members of CAKE and volunteers
Text pages: 100% post-consumer recycled paper
Endsheets: handmade paper made from reclaimed jute coffee sacks from a local coffee roaster
Covers: handmade paper made by the band using their old cotton clothing
Binding: hand stitched with local handspun thread waxed with beeswax from a local beehive
Edition: 1000 numbered copies signed by all members of CAKE
5¼ x 5¼" hardcover book
Includes a CD single of the song
Published in San Francisco, 2011
Designed by CAKE
Book lyrics written by John McCrea
Music written by John McCrea/Vincent DiFiore/Xan McCurdy/Gabriel Nelson
Performed and Recorded by CAKE
Available here.